Diesel-powered monorail systems
With more than 40 years experience in installations diesel-powered locomotives and more than 800 installations of our machines we have made an essential contribution to the rationalisation of transport in mining.
Monorails with diesel-powered locomotives are particularly designed for the transport of men and material in branched rail networks with varying gradients. By means of the diesel-powered monorail locomotive even difficult transport problems can be solved.
These diesel-powered monorail locomotives are type-tested and approved by EXAM, for use in explosive atmosphere with a methane content of up to 1.5%.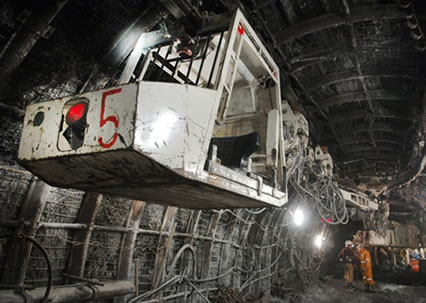 Product features of diesel-powered monorail locomotives
130kW diesel engine with dry-type exhaust gas cooling system
drives with parallel contact pressure system
efficient generator for the supply of the intrinsically safe power supply
electrical starter system
modular design
consistent captive guidance of all travelling gears by amply dimensioned lateral guide rollers
Product features of the new powerful generation of diesel-powered monorail locomotives DZ 2200
Newly developed drives with parallel contact pressure system
Newly developed efficient generator for the intrinsically safe power supply
Modular design
Consistent captive guidance of all travelling gears by largely dimensioned lateral guide rollers
data exchange between the operator's cabins via intrinsically safe control
Technical data diesel-powered monorail system DZ 2200
Type of drive:
Diesel hydraulic
Engine Liebherr / Scharf:
Direct injection engine with exhaust gas turbo charger and charge cooler
With curve radius horizontal:
4 m
With curve radius vertical:
8 m
Frictional wheel diameter:
340 or 450 mm
Climbing ability:
30 degrees (larger inclinations upon inquiry)
Tractive force:
Up to 120 kN
Technical data diesel-powered monorail DZ1500
Drive system:
Diesel - hydraulic
Diesel engine:
4-cylinder Scharf / Liebherr turbo diesel
Rated power:
84 kW bei 1,800 min -1
Diesel tank:
Volume 140 L
Horiz. curve radius:
Min. 4 m
Vertical curve radius:
Min. 8 m
Friction wheel diameter:
340 mm
* Depends on selected hydraulic motor
Advantages
Doubling of efficiency as compared to conventional drive motor
Number and arrangement of travelling gears can be varied to suit the individual requirements
Minimal exhaust gas and noise pollution
Hydraulic motor starter